New Prince Aircraft Company wood/carbon fiber prop on my KR-2S

Front picture. The picture doesn't do the prop justice. The leading and trailing edges are air brushed black hiding the edges of the carbon fiber and the leading edge protection. The rest of the prop is natural carbon fiber under a polished epoxy finish. This prop is 62"D x 66"P.



Front quarter photo.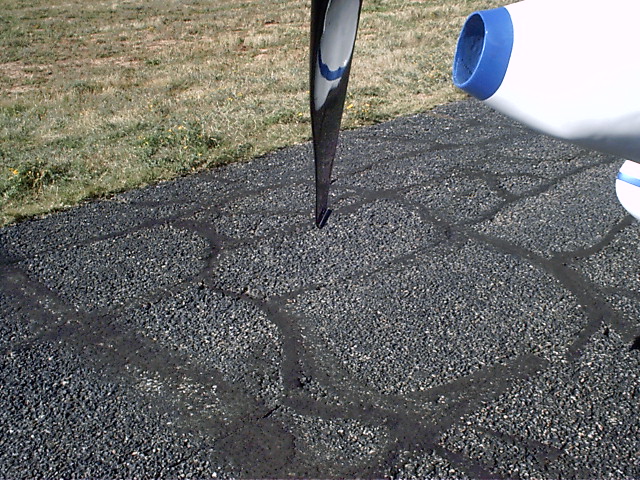 Photo of the "P" tip.



Second photo of the "P" tip on the prop. Goes kind of nice with the rolled up wing tips of the Diehl Wings. :o)



Gosh, isn't it beautiful? OK, I'm biased. :o)

2015 - Issues with the Prince Prop.
While I still really like this prop, at the time that I bought it, Prince did not offer any leading edge protection. Most of the issues with this prop have all be related to the leading edge as it is easily damaged. I have repaired numerous rock chips with a combination of milled fibers, West epoxy, and black dye. Once I got into heavy rain for about 60 seconds. That was enough to badly erode the leading edge of the prop. I was able to continue the trip and stayed out of the rain for the balance of the trip until I got home and was able to repair the prop. Again, the leading edge had to be filled with a misture of epoxy, milled fibers, and black dye to have it match the prop. One last issue has been with the carbon fiber finish itself. I fly to the Phoenix and Tucson areas occasionally during the fall. While sitting in the hot sun, the black carbon fiber finish on the prop got hot enough to cause some bubbling under the finish, mostly withint 16 inches of the spinner. If I was ordering again, I would still buy a Prince Prop as I love the performance, but I would order it with the leading edge protection now offered by Prince, and would order it in white for protection from the heat generated when out in the sun.